Flight bargains to and from City of Derry Airport this Christmas as airlines add extra services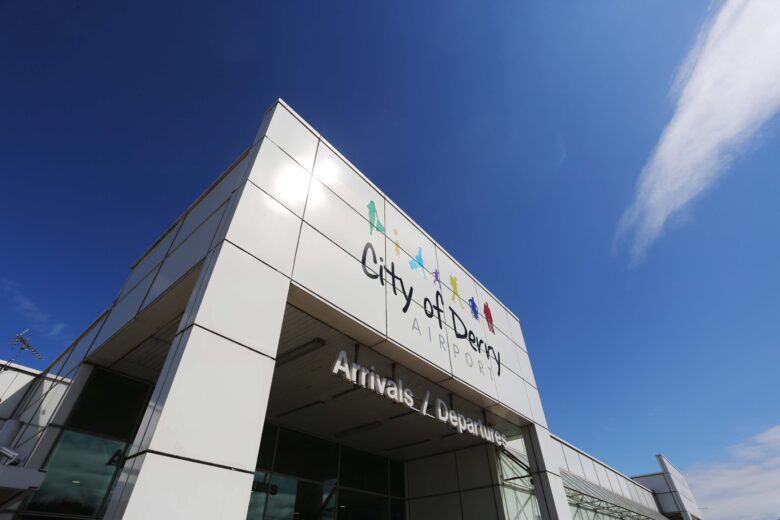 For immediate release: 3rd December 2020
Whilst prices escalate for flights to and from many airports across the country, flight prices for City of Derry Airport remain reasonable – given the time of year. One-way flights departing the airport are costing from £12.24 and one-way flights to the airport are selling from £19.73.
City of Derry Airport (CoDA) is looking forward to connecting the North West safely this Christmas with its airline partners – Loganair providing services to and from Glasgow and London Stansted, and Ryanair delivering services to and from Edinburgh and Liverpool. Both airlines have added additional services to accommodate passengers over the permitted travel period (22nd December – 28th December) and flights are well priced.
Throughout the permitted travel period CoDA will have daily flights to London Stansted, sometimes twice and three times a day. Three times a week to Edinburgh, four times a week to Liverpool, and twice during the travel window to Glasgow.
During the travel period, one-way flight prices departing CoDA are ranging from:
£12.24 to Edinburgh
£82.19 to Glasgow
£13.84 to Liverpool
£60.19 to London Stansted.
One-way flight prices to CoDA are starting from:
£19.73 from Edinburgh
£69.41 from Glasgow
£24.99 from Liverpool
£58.65 from London Stansted.
To assist passengers this Christmas, CoDA is offering 10% off car parking and Amelia Earhart Lounge access with the promotional code: MerryChristmasCoDA. It is also offering 20% off to all shoppers who quote 'Merry Christmas CoDA' at the airport shop.
Steve Frazer, Managing Director at City of Derry Airport comments:
"We are delighted to bring 2020 to a close by helping to connect the people of the North West this Christmas. We are thankful to our airline partners who have added additional services to their timetables, and we very much look forward to bringing families together during this special time of year."
"For those who may be travelling for the first time this year we can ensure you that your experience at City of Derry Airport will be both safe and festive. Our health and safety measures do remain a priority so passengers will feel safe and well protected when travelling through the airport.
We are offering discount codes for our car parking, lounge, and shopping experiences as a gift to our passengers. For all you amazing NHS and care workers your parking is on us. As well as Christmas decorations and Christmas music, there will be complimentary minces pies and selection boxes (starting on the 7th December) for kids, to help keep everyone's spirits up"
City of Derry Airport has a range of Health and Safety measures in place including:
Temperature scanning and checking as everyone enters
Mask wearing is mandatory at the airport
There is a one-way system in place and throughout the airport everyone must socially distance
Touchless hand-sanitiser stations are at several points within the airport
There are intensive cleaning regimes.
For more information on City of Derry Airport visit: www.cityofderryairport.com
For more information on its health and safety measures visit: www.cityofderryairport.com/2020/07/02/coda-prepare-for-take-off-with-new-health-safety-measures/
ENDS
Note to editors:
Prices have been selected from Loganair and Ryanair's websites on the 3rd December and they are subject to change. For more information on Loganair visit: www.loganair.co.uk/ and Ryanair visit: www.ryanair.com/gb/en
Hashtags for Online PR: #FlyLocal #ChooseCoDA #ConnectingTheNorthWest
For further information, contact Joanne Campbell, Marketing Executive at City of Derry Airport. Telephone: 07741906298 or email: joanne.campbell@cityofderryairport.com