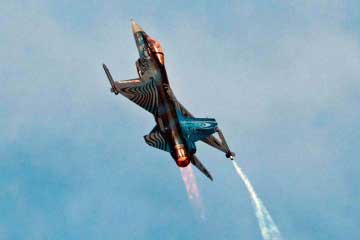 A Belgian Air Force F16 fighter jet performs aerial acrobatics over City of Derry Airport ahead of todays Portrush International Air show. The single seater jet can achieve speeds of unto 1500 miles per hour and can climb at a rate of 254 meters per second. Picture Martin McKeown. Inpresspics.com.
The tenth running of the NI International Airshow in Portrush is set to welcome back a number of crowd favourites who couldn't attend last year.
The free show, sponsored by SPAR and NITB, takes place at the seaside town on the first weekend of September. The ever-popular Team Guinot Wingwalkers are back with a stunning new paint job and a new name, Team Breitling, named after the famous Swiss watches. The thrilling stunt show which features girls standing on the wing while the aircraft performs loops and spins has always been popular with spectators and were much missed from last year's programme. To celebrate the tenth show the team has made a special effort to make it to the north coast and will use the occasion to give a thrill of a lifetime to our VIP guest during the show.
One of the reasons for the spectacular popularity of the event is that it is much more than just an airshow. There will be something to appeal to all tastes. The shoreline is packed with arena shows such as England's Crazy Bear Roadshow, Yorkshire's Rapide Brothers, World War 2 re-enactors, model aircraft, quiz shows and giveaways, 80 trade stands, Royal Navy rugby, RAF Typhoon cockpit, simulators, Candy Devine's Downtown Radio show, Royal Marine Unarmed Combat demo and of course the parade and poppy drop to mark the 90th year of the Royal British Legion.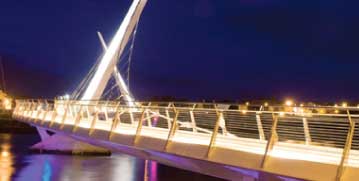 The Peace Bridge is part of Derry's regeneration programme. Funded by the European Union's PEACE III programme (Shared Space initiative), the Peace Bridge will be a living landmark and a lasting legacy. Construction of the bridge commenced in January 2010 and was opened on June 25th 2011.
The bridge measures 235 metres bank to bank and is approximately 4 metres wide, with landing points at the rear of the Guildhall and Ebrington. The design concept for the bridge itself is based on the idea of two hands reaching out to link together and links together the previously divided communities on either side of the River Foyle.
The project was a first in Northern Ireland, in that social clauses in the contract ensured the employment of twelve local unemployed people, most of whom have gone on to secure full time employment with GRAHAM.