Book Car Parking
City of Derry Airport has a variety of great car parking products to suit everyone, whether it's for a short break, a longer trip away or dropping off friends and family.  The car park is conveniently located onsite, opposite the terminal building and within easy walking distance to the main entrance.  For secure, convenient parking, pre-book online for the most competitive rates.
Customers wishing to prebook car parking must do so at least 2 hours in advance of their expected arrival time at the airport.
For car parking enquiries please email:  parking@cityofderryairport.com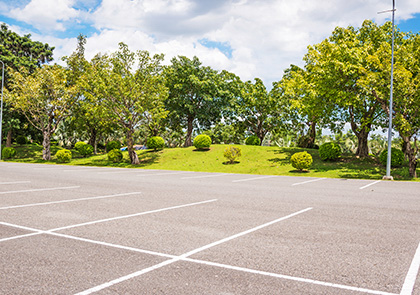 To view, amend or cancel an existing car parking booking please log into the City of Derry Airport Car Parking system using your email address and unique password.
Click the link: "Manage My Booking" page where you can update your booking details.
All carpark bookings can be cancelled before entry into the carpark, if not online by a supervisor at the Customer Service Desk.
Please note that some car parking tariffs are not flexible and cannot be cancelled nor amended.
When is the earliest I can make a booking? 
12 months before you expect to enter the car park. Booking this early will enable you to get the best prices, but book a flexible tariff if your plans might change – some tariffs cannot be cancelled for a refund.
When is the latest I can make a booking? 
6 hours before you expect to enter the car park.
Why can't I get a quote for the dates I'm looking for?
There may not be any pre-bookable spaces left, or your stay duration is outside of the minimum and maximum periods, or one of your entry/exit times is outside of the times of operation of our car park. Please email us and we will be happy to assist you: parking@cityofderryairport.com
How do I book disabled parking?
CoDA do not differentiate the pre-book car parking product for disabled users. If you require help or assistance by airport staff then please contact the Airport Customer Service Desk on +44 (0) 28 7181 0784.
How are your prices calculated?
Our prices are based on a rate for every 24 hour period your car is in the car park, or part thereof.
What payment methods are accepted?
We accept most major credit and debit cards, i.e. Visa, MasterCard.
Is my payment secure?
Our website uses "gold-standard Enhanced Validation (EV) SSL certificates issued by the internet security company Starfield Technologies. This is the highest level of SSL security available.
How do I know if my booking has worked?
You will receive a confirmation email from us with a booking reference/ ticket for your booking, which you should print out and bring to the airport when you park your car. If you do not receive the email, please log onto the system using your email address and password:  https://prebook.cityofderryairport.com
Alternatively, contact the Airport Customer Service Desk on +44 (0) 28 7181 0784 or email us parking@cityofderryairport.com and we will be happy to assist you.
Can I amend / cancel my booking if my plans change?
Some tariffs cannot be cancelled for a refund.  If you have booked a flexible product you can amend or cancel this up to 24 hours before your previously expected arrival at the car park.  A £2.00 fee will apply to all cancellations / amendments.
Can I bring a different car to the one I originally told you I would bring?
Yes, but you must tell us by amending your booking using the "manage my booking" page:  https://prebook.cityofderryairport.com
Are there any size restrictions for vehicles?
There are no height restrictions at our car park, but the length and width of your vehicle must not exceed the size of one standard parking space.  If your vehicle does exceed a standard size then please contact the airport in advance of making your booking so we can ensure we have a space available for you, by emailing us: parking@cityofderryairport.com
What do I do when I get to the car park?
When you arrive at the car park drive up to the entrance barrier, our vehicle recognition system will read your number plate and a ticket will be issued before the barrier automatically opens.  You must take the ticket and hold onto it for your return as this ticket must be inserted at the exit barriers to permit exit.
If for any reason a ticket is not issued and the barrier does not open automatically, then please press the intercom and speak to a member of our team who will be more than happy to assist you. Please note you will need your booking reference, passport or drivers licence as proof of identity to validate the booking.
What happens when I return from my trip?
Once you return from your trip you must enter the tickets you received on entering the carpark into the exit barrier to exit. This does not work with vehicle recognition. If there are any problems, please press the help button and a member of the Customer Service Team will help you.
Is there a bus service between the terminal and the car park?
No, our car park is located directly outside the terminal entrance and exit.  Due to the very close proximity of the car park there is no requirement for a bus.
What happens if there is a problem with my car while it is in the car park and I cannot drive it out?
You should immediately arrange for a recovery / roadside repair, and contact a member of our customer service team at the Airport Customer Service Desk.  A recovery vehicle will be permitted into the car park to service your vehicle. Please note, for vehicle recovery City of Derry Airport needs to be advised by email, if possible, that the car is being removed from the carpark by a recovery vehicle and that all parking fees have been paid.
What if my car gets damaged in the car park?
This is highly unlikely, however, if it does happen then you must immediately report this to the Terminal Service & Security Manager or a member of staff at the Airport Customer Service Desk.  Please note our terms and conditions regarding damage to vehicles parked in the airport car park.  You must not leave the car park without reporting the incident – failure to do so will result in any claims being invalidated.
What if my return flight is late?
Our car parking prices are structured on a daily basis so if you return later than expected, but within the same day then you may leave the car park with the same car parking ticket.  If for any reason you are later than expected, and the time period is longer than 24hrs then please speak to a member of staff at the Airport Customer Service Desk who will charge you for the additional time.
When / how often do your prices change?
We always monitor our car parking prices and they can be changed at any time. Prices quoted are valid at the time of booking only.
What other fees am I likely to incur by making a booking?
No additional fees will be incurred at the time of booking.  We do not charge any debit/credit card fees, nor booking fees.
What do I do if my flight is cancelled or there are other problems on the day?
Contact the airport and we'll do everything we can to help, please email us at parking@cityofderryairport.com or contact us by telephone:  02871 810784, ext: 201.
To avail of discounted rates passengers are advised to pre-book car parking online.  Pre-booking must be made a minimum of 6 hours before parking is required.  You can pre-book your car parking space here using our online booking system leaving you with peace of mind before your journey.
Please note, when pre-booked passengers arrive at the entry barrier, the barrier will read the registration of the pre-booked vehicle and the ticket stand will automatically issue the pre-booked ticket with the registration printed on it and a reference number. The passenger must keep the ticket and use when exiting the carpark.
City of Derry Airport car park has a total of 500 Pay-On-Foot spaces and is located adjacent to the main terminal building . The secure car park is covered by 24-hour surveillance and is locked down each evening.
Parking is not permitted in the Set Down or Pick Up areas or on the access roads. Illegal parking in these areas may lead to vehicles being clamped. Removal of the clamp will incur a minimum charge of £50.
Customers who have not pre-booked online must pay all car parking charges before returning to their vehicle, parking charges cannot be paid at the exit barrier in the car park . There are two automatic pay-stations located outside the main terminal exit door and one automatic pay-station located at the rear of the car park – these accept notes and coins (both Sterling and Euro) and all major credit/debit cards.  There is also a manned pay station at the airport Customer Service Desk for your convenience.
To avail of discounted rates passengers are advised to pre-book car parking online.
For security reasons the Car Park is only open to the public during the airport's published opening hours. Vehicles cannot be accessed outside these hours.
| | |
| --- | --- |
| Monday | 04:30 – 21:45 |
| Tuesday | 04:30 – 21:45 |
| Wednesday | 04:30 – 21:45 |
| Thursday | 04:30 – 21:45 |
| Friday | 04:30 – 21:45 |
| Saturday | 05:00 – 18:00 |
| Sunday | 08:00 – 21:45 |
4Please note, these times are subject to change and vehicle owners are advised to contact the Airport Authority for the most up to date information. Please ring +44(0) 2871 810784 or email us: parking@cityofderryairport.com
In the interests of security, the car park will be closed outside of these opening hours and passengers will not be able to access or retrieve their vehicles.
Disabled parking bays for disabled badge holders are provided in the main car park, sited between the main gate and the terminal building.  Should assistance be required once parked, getting from the car park to the terminal building, our dedicated customer service will be available to assist you and can be contacted via a telephone point in the car park.
Drop Off / Pick Up ONLY:  Vehicles displaying a blue disabled badge dropping off or picking up passengers can avail of complimentary car parking for the first two hours with normal rates applying after this time expires.  Drivers wishing to avail of this service must display the appropriate badge and must park in the designated bays in the main car park.  Further information may be obtained from the airport Customer Service Desk.
FIRST 2 HOURS FREE WITH NORMAL RATES APPLIED THEREAFTER is only available to customers dropping off or picking up passengers from the airport.
Change to car parking tariff at City of Derry Airport – Effective 1st December 2015
The Board of Directors of City of Derry Airport took the decision to reduce car parking charges for the majority of short stays to the airport.  The airports car park pricing structure was transformed from 1st December 2015 to offer customers a safer and more relaxed car parking experience.
Customers can visit the airport to drop off or pick up passengers and stay for up to 2 hours for only £1.00.  As a result, the current 10 min free period has been removed.  This decision was made following an increasing number of safety incidents in the car park as large numbers of vehicles enter and leave at high speed within the free period.
Car Park users are advised to take advantage of the 2 hour parking period for only £1.00 and encouraged to come into the terminal and take advantage of the facilities on offer, including Free Wi-Fi and discounted offers in our cafe.
Short Stay – City of Derry Airport

Time Period

Main Car Park

0 – 2 Hours

£1.00

2 – 3 Hours

£2.00

3 – 4 Hours

£5.00

4 – 5 Hours

£8.00

5 – 6 Hours

£10.00

6 – 24 Hours

£15.00

1 – 2 days

£22.00
Current Parking Charges – Effective from March 2015
Please note, prices stated below are gate rate prices. Customers are advised to pre-book car parking online to SAVE money and avail of great value PREBOOK discounted rates.
Click here to get a Quote NOW.
GATE RATE

Long Stay – City of Derry Airport

Time Period
Main Car Park
1 Day
£15.00

2 Day

£24.00

3 Days

£34.00

Each day thereafter
£10.00
Lost tickets will be charged a minimum charge of one full day (currently £15.00). Automatic Number Plate Recognition will be used to determine your entry date and time. In addition, customers may be asked to produce evidence of their flight details to ascertain the date and time of their arrival and departure so that accurate charges can be levied.
Important Note – Disputes:
Our Customer Service Staff do not have any discretion to either reduce or waive parking charges.
In the event of a dispute any amount due must be paid in full and details of the claim sent in writing to:
Commercial & Marketing Manager,
City of Derry Airport,
Airport Road, Derry, Co.Londonderry,
Northern Ireland.  BT47 3GY