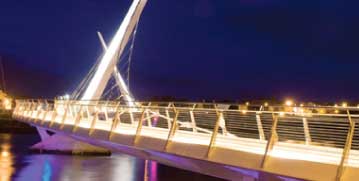 The Peace Bridge is part of Derry's regeneration programme. Funded by the European Union's PEACE III programme (Shared Space initiative), the Peace Bridge will be a living landmark and a lasting legacy. Construction of the bridge commenced in January 2010 and was opened on June 25th 2011.
The bridge measures 235 metres bank to bank and is approximately 4 metres wide, with landing points at the rear of the Guildhall and Ebrington. The design concept for the bridge itself is based on the idea of two hands reaching out to link together and links together the previously divided communities on either side of the River Foyle.
The project was a first in Northern Ireland, in that social clauses in the contract ensured the employment of twelve local unemployed people, most of whom have gone on to secure full time employment with GRAHAM.