NEWS
Find out what's the latest from City of Derry Airport.
CITY OF DERRY AIRPORT SHORTLISTED FOR PRESTIGOUS AVIATION AWARDS
City of Derry Airport, CoDA, has been shortlisted for two prestigious awards in the 2015 Aviation Industry Awards:  Airport Achievement Award and Airport Safety Award. 
The Aviation Industry Awards celebrate excellence in the aviation sector in Ireland.  Over 650 industry professionals are expected to attend the awards ceremony in Dublin on Thursday 28th May, bringing together leading companies from every sector of aviation.
City of Derry Airport received it's nomination for Airport Achievement award demonstrating management's commitment to infrastructural improvement and enhancement of the passenger experience in the last 12 months.
City of Derry Airport was also nominated for the Airport Safety Award following its contribution to safety, both safety promotion and safety awareness, and is deemed to have enhanced behaviours, which demonstrates the airports overall commitment to achieving excellent safety performance.
Clive Coleman, Contractors Director for RCA (the company responsible for the management of CoDA) stated:  "CoDA is delighted to be shortlisted in the Aviation Industry Awards 2015 – such a great honour which illustrates the significant role of the airport as a vital piece of infrastructure for the region and showcases the great work of all the team here at CoDA.  The category of Airport Achievement demonstrates how recent infrastructural improvements have had a positive impact on the overall customers experience and the Safety Award demonstrates the success of our people as CoDA employees continue to challenge themselves on a daily basis on their attitude to risk so that we can develop inherently safe practices in all of the airport's operations.  This hard work falls to each and every one of CoDA staff and management as we continuously look at everything we do with a view to eliminating risk.  Achieving the goals set out within the Airports Target Zero Safety Plan is a significant challenge as these targets are set high but they are achievable.  Nothing else is acceptable.  Achieving these targets keeps CoDA and our customer's safe, and allows the airport to thrive in an aviation market where Safety is a decisive factor".
Commercial and Marketing Manager, Charlene Shongo, outlined "We are absolutely delighted to be shortlisted in the 2015 Aviation Industry Awards – this is a significant achievement for the airport and demonstrates the hard work and commitment from all the team here at City of Derry Airport.  We are particularly proud to be nominated for the Airport Safety Award, in common with other leading companies in the aviation sector; safety is of significant importance at the airport, we are constantly striving to mitigate risk and improve Safety".  Charlene added:  "The value of continuous improvement in all areas of safety can never be underestimated.  CoDA is firmly committed to our safety programme, Target Zero and we strive to ensure it remains focused on reducing risk and improving standards for all stakeholders.  The airport promotes a positive safety culture which in turn provides an excellent customer experience leading to CoDA remaining very much at the forefront of the aviation industry".
---
PUBLIC NOTICE – EXPRESSION OF INTEREST NOTIFICATION
City of Derry Airport (CODA Operations Ltd) request expression of interest to enable the pre-qualification of firms/ companies for:
Providing a Public Hire Taxi Service 
Upgrade / replacement of an existing heating and ventilation control system (Design and Build)
To register your interest for these opportunities please email:
Tender-EOI@cityofderryairport.com.
An expression of interest must be made via email before 22nd May 2015 at 17.00hrs.  A pre-qualification questionnaire will then be forwarded to you.  At the same time you will also be forwarded more details of the tender process including contact details and preliminary timetable and submission requirements.  Award criteria for all the lots advertised will be detailed within the information sent to those selected to tender.
---
RYANAIR CELEBRATES CARRYING 4M CUSTOMERS AT CITY OF DERRY AIRPORT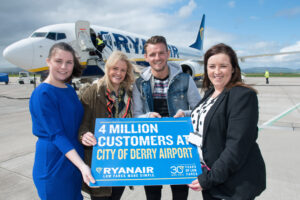 Ryanair, Europe's favourite airline, today (12 May) celebrated its 4 millionth customer at City of Derry Airport since it commenced operations in 1999. This summer Ryanair will offer customers in the North a choice of 5 routes, delivering 285,000 customers p.a. and supporting 285 direct and indirect jobs* at City of Derry Airport.
Ryanair celebrated carrying 4 million customers at City of Derry Airport by releasing seats for sale across its European network, at prices from £19.99 for travel in June. These low fare seats are available for booking until midnight Monday (18 May).
In Derry, Ryanair's Sales & Marketing Executive, Lisa Buckley, said:
"Ryanair is delighted to celebrate its 4 millionth customer at City of Derry Airport. Over the last 16 years Ryanair has seen a huge demand for its routes at Derry as customers in the North snap up Ryanair's lowest fares to Europe's top destinations including Alicante, Glasgow International and London Stansted.
To celebrate 4 million customers at Derry, we are releasing 100,000 seats for sale across our European network, at prices from £19.99 for travel in June which are available for booking until midnight Monday (18 May). Since these amazing low prices will be snapped up quickly, customers should log onto www.ryanair.com and avoid missing out."
Charlene Shongo, Commercial and Marketing Manager at City of Derry Airport outlined:
"We are absolutely delighted to welcome Lisa Buckley to the airport today as we join Ryanair in celebrating their 4 millionth customer at City of Derry Airport. This is another significant milestone in the airport's history and we wish to take this opportunity to thank Ryanair for their support and loyalty to CoDA and the NW over the last 16 years."
Clive Coleman, Contracts Director of Regional City Airports Management (the company responsible for the management of CoDA) added:
"The airport is ideally placed to serve not only the city but its natural catchment in County Londonderry, Tyrone, Donegal, North Antrim and surrounding districts making it a vital piece of infrastructure for the region. We extend our sincere thanks to Ryanair, for providing a vital air access link for the local community and performing a pivotal role in the economics of the region. We look forward to continuing to strength our relationship with Ryanair and expanding on the range of services we offer in the coming years."
* ACI confirms up to 1,000 'on-site' jobs per 1m passengers
---
City of Derry Airport welcomed the opportunity to submit views to the Northern Ireland Assembly Committee for Finance and Personnel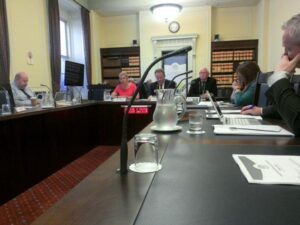 City of Derry Airport, (CoDA), today welcomed the opportunity to submit its views to the Northern Ireland Assembly Committee for Finance and Personnel at a meeting in Belfast following the recent publication of Air Passenger Duty Economic Impact Assessment Report by DETI.  Representatives from the Airport meet with the assembly and provided oral evidence on the significantly negative impact of Air Passenger Duty, (APD), on air connectivity across the UK regions and in particular here in Northern Ireland.
Commenting on the report, Clive Coleman Regional City Airport's Contract Director responsible for the management of CoDA stated:  "Whilst the report is welcomed as the first step in addressing the issues of connectivity to Northern Ireland it is disappointing that it has failed to realise the current situation of airlines not expanding routes into and out of Northern Ireland because of this tax".
The report is detailed in evaluating the issue of APD, however CoDA have raised concerned that there are a number of significant pessimistic assumptions made in the economic modelling and that a more realistic assessment would significantly improve the case for the tax to be reduced.
CoDA believe that a reduction in levels of APD would have a significant beneficial effect on Northern Ireland's economy and strongly supports the potential for a Northern Ireland specific route development mechanism which would help to counteract some of the effects of APD on the development of new routes into NI and looks forward to working with the Executive to make this a reality.
---
CoDA Receives National Award – 'Park Mark' – Safer Parking Award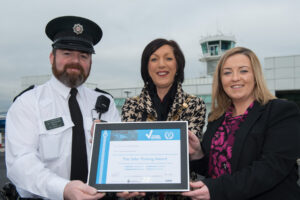 The car park at City of Derry Airport has been awarded the Park Mark safer parking award for their efforts in preventing vehicle crime and reducing the fear of vehicle crime in their parking areas.
The award, which is made by ACPO, the Association of Chief Police Officers was presented by Inspector Declan McGrath, Waterside Neighbourhood Policing Team to Mayor of Derry-Londonderry, Councillor Brenda Stevenson and Charlene Shongo, Commercial and Marketing Manager at the City of Derry Airport.
"The City of Derry Airport is doing everything they can to prevent crime occurring in their parking area. The area has been assessed and vetted by police and measures have been put in place in order to create a safe environment for passengers and visitors alike," said Inspector McGrath.
"Since achieving the Safer Parking Award the airport car park has seen little or no crime over the past year. The security precautions, management practices along with enhanced CCTV all contribute to a safe parking environment" said Inspector McGrath.
On receipt of the award, Charlene Shongo stated "we are delighted to receive this Park Mark Award for the third year running - this achievement demonstrates the airports commitment to ensuring every possible effort is made to keep our customers vehicles and our car park users safe at all".
Safer parking status, Park Mark®, is awarded to parking facilities that have met the requirements of a risk assessment conducted by the Police. These requirements mean the parking operator has put in place measures that help to deter criminal activity and anti-social behaviour, thereby doing everything they can to prevent crime and reduce the fear of crime in their parking facility. For more information on the Safer Parking Scheme, visit the British Parking Association (BPA) at www.britishparking.co.uk
CoDA currently offers parking at a rate of £2.00 per day, after the first day and would encourage all customers to pre-book their car parking as soon as travel arrangements are confirmed in order to obtain the most competitive rates available. CoDA encourages all customers to pre-book with City of Derry Airport as the ParkMark accreditation illustrates its car park is safe and secure. Customers are advised to be aware of the advantages of parking in areas which are accredited car parking facilities to benefit from the enhanced security and protection as well as the convenience of being just a few steps away from the airport terminal.
---
Media & Public Notice: Emergency Training Exercise at City of Derry Airport
On Saturday 27th September 2014, a major emergency will be stimulated at City of Derry Airport involving the emergency services and other support agencies.  This is an bi annual training exercise required by the Civil Aviation Authority and is carried out in partnership with local emergency services including the NIFRS, the NIAS, the MCA, Western Health & Social Care Trust, British Red Cross, the University of Ulster School of nursing and North West Regional College.  The emergency exercise will commence at 12.00hrs and will end around 16:00hrs.
The purpose of the exercise is to test CODA's emergency & safety capability in response to an incident involving an aircraft.  During the exercise there will be approximately 3 airport Fire Appliances & 7 NIFRs Fire Appliances (including Specialists Appliances) in the vicinity of the airport.  A response by NIAS and the MCA will also be anticipated.  Response vehicles may be transiting to and from the airport during these times.
The airport will be running the exercise outside of normal operational hours.  The public can be assured that emergency Fire & Rescue cover will not be affected during this time.
We thank the public in advance of this exercise for their co-operation, with disruption to the public being kept to a minimum.
---
Rigby Group Acquires Norwich International Airport
Rigby Group Plc has today announced the acquisition of Norwich International Airport from
Omniport for an undisclosed sum.
Norwich International Airport is the principal aerial gateway to and from East Anglia, serving
Norfolk, Suffolk, and East Cambridgeshire. It has a long history and sound levels of activity on
scheduled and charter passenger activities, as an aircraft maintenance base and an operating
hub for the southern North Sea oil and gas industry.
The facility will now be managed by Rigby Group's airport division Regional & City Airports
(RCA), which also already owns and operates Coventry and Exeter Airports - which it acquired
in 2010 and 2013 respectively.
The company also holds management contracts for both Blackpool International Airport and
City of Derry Airport and is actively building its portfolio of owned or managed airport assets
across the next five years.
Chairman and Chief Executive Sir Peter Rigby said: "We have continually reiterated our belief
in the importance of regional airports to local and regional communities and their economies.
We are intent on developing our aviation business within the Rigby Group, and have made
another significant acquisition here. I am delighted to welcome Norwich's staff to a workforce
that now safeguards approximately 650 aviation jobs, and look forward to working with them
as we plot out a secure, sustainable and positive future for the facility."
The move will see the management teams at Norwich, Coventry and Exeter work together for
mutual benefit as well as attracting more corporate and general aviation.
Norwich International Airport CEO Andrew Bell added: "This is a significant and very positive
day for the Airport. As a highly respected and stable organisation, Rigby Group's involvement
will enable us to build on the many achievements of recent years, safeguarding the future of
the business and providing us with a platform from which to build an even more prosperous
future for the Airport itself and the region."
---
Air Passenger Duty (APD)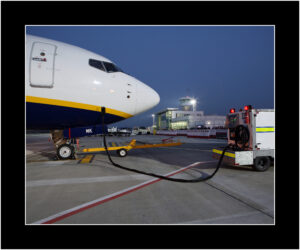 The City of Derry Airport fully endorses the recent views expressed by Michael Cawley, the Deputy Chief Executive of Ryanair, that Air Passenger Duty (APD) is an unfair tax that is having a hugely negative effect across the UK regions and in particular here in Northern Ireland.
Over 80% of all flights to and from Northern Ireland are to airports in Great Britain, this means that our passengers are charged APD on both legs of their journey. At the current rate passengers are charged £26 in tax on a return ticket to anywhere in GB from Northern Ireland.
Passengers in Great Britain also have other travel options if they wish to avoid the tax – they can drive or get the train. These options are very limited or non-existent for Northern Ireland travellers. Therefore APD has a disproportionate effect on Northern Ireland passengers because for many they have no choice but to fly.
Finally Northern Ireland is the only part of the UK that has a land border with another EU state that has a different taxation system. From 1 April 2014 Ireland's equivalent to APD is being abolished. This creates a competitive price differential that is encouraging passengers in ever greater numbers to fly from airports south of the border. The other effect of this tax differential is that airlines are choosing to put new flights into countries where there is no travel taxation. This makes it even more difficult to develop new routes to and from Northern Ireland.
All of Northern Ireland's political parties and the Executive in Stormont agree that this tax is bad for Northern Ireland. It is unfair, unjust and is detrimental to growth of the Northern Ireland economy. It is imperative that our politicians persuade the Exchequer in London to reduce or remove this tax in order to facilitate the connectivity Northern Ireland needs for business, leisure and tourism.
---
RYANAIR CALLS ON THE UK GOVT TO SCRAP AIR PASSENGER DUTY IN ORDER TO PROMOTE TOURISM GROWTH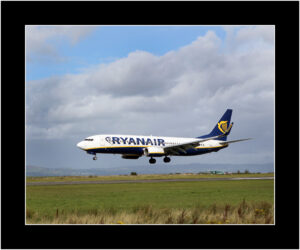 Ryanair, Europe's favourite low fares airline, today (20 Feb) called on the UK Govt to repeal the APD travel tax in order to stimulate jobs and tourism growth at airports in Northern Ireland, which now operate under a considerate disadvantage to their counterparts in the South, following the Irish Government's decision to scrap the €3 travel tax from April.
Speaking at a Chamber of Commerce function in Derry today, Ryanair's Deputy Chief Executive, Michael Cawley, called for the abolition of the most expensive flight tax in the world and urged the government to follow the example of its counterparts in Dublin where tourism is set to have a record year of growth following the complete abolition of its travel tax.  In Northern Ireland APD has only been axed on long-haul routes but remains at £13 per passenger on short-haul routes.
Many other EU countries have scrapped their travel taxes, including Belgium and Holland, and most recently Ireland, and have seen immediate benefits in their aviation industry.  Already Ryanair has allocated an additional 1 million passengers to the main Irish airports following the abolition of the tax by the Dublin government. Ryanair strongly believes the repeal of the APD would bring Northern Ireland in line with the South and generate much needed growth at its airports and for its tourism industry.
Michael Cawley said:
 "The UK Government's APD tax is damaging Northern Ireland's tourism. Northern Ireland cannot grow tourism by taxing visitors and raising airport charges to uncompetitive levels. Other EU countries have returned to growth by scrapping tourist taxes and cutting airport charges, in some cases to zero like Ireland and we urge Northern Ireland to now follow this lead."
---
RYANAIR'S MID-TERM SPECIALS!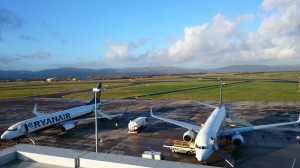 FLY CITY OF DERRY AIRPORT TO LONDON STANSTED FROM JUST £19.99
SPEND MORE TIME WITH THE KIDS FOR LESS THIS MARCH & APRIL
Ryanair, Europe's favourite low fare airline, announced that from midnight (24:00hrs) tonight (Mon 17 Feb), passengers can book cheap flights from Derry to London Stansted from just £19.99 in March and April as part of its 'Mid-term Specials' low fares promotion.
Ryanair is releasing 100,000 seats across its entire European network at prices starting from just £19.99 for travel on Mon, Tue, Wed & Thur in March and April and these "all in" cheap flights will be available on over 1,000 of Ryanair's European routes, but must be booked on the Ryanair.com website before midnight (24:00hrs) Thur, 20 Feb.
Ryanair's £19.99 sale fare includes all non-optional taxes, charges and fees, so passengers who travel with carry-on luggage only and decline our priority boarding service can book, check-in online and fly for this advertised £19.99 price, by booking one of these 100,000 'Mid-term Specials' seats.
Ryanair's Lisa Cashin said:  "Only Ryanair sells Europe's lowest fares with no fuel surcharges guaranteed, across over 1,600 routes, connecting 186 destinations, while delivering Europe's No 1 customer service, with the most on-time flights, fewest cancellations and least mishandled bags.
From midnight tonight (17 Feb), passengers can book 100,000 'Mid-term Special' seats on over 1,000 European routes, including cheap flights from Derry to London Stansted, at prices starting from just £19.99, for travel in Mar & Apr. These seats are only available until midnight (24:00hrs) Thursday (20 Feb) and at these mad prices are sure to be snapped up fast, so we urge passengers to book theses cheap flights on the Ryanair.com website before they sell out."
---
Extension Works at City of Derry Airport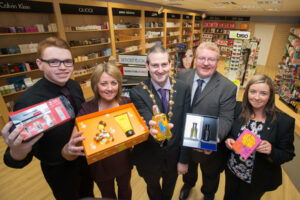 City of Derry Airport has recently completed refurbishment works within the main Departure Area of the terminal building. These works included the provision of a pre-boarding area and an extension to the existing retail offering at the airport.
Airport Director, Damien Tierney said:  "We are always looking at ways to improve the customer experience at the airport. Completion of this project will complement our other recent customer service improvements including the provision of free WiFi throughout the terminal and the upgrade to our relaxing Amelia Earhart Lounge.  The aim of this extension project is to offer more capacity within the departure lounge and improve the retail offering.  During peak summer months, the pre-boarding area will speed up passenger boarding and alleviate congestion in the departure lounge.  The newly refurbished retail unit will offer customers an improved shopping experience and a wider range of gift ideas.
Commercial Manager, Charlene Shongo said, "We are very pleased with the newly refurbished retail unit; offering customers an exciting and expanding range of quality merchandise at very competitive prices".  Charlene added, "The opening of the newly refurbished retail unit comes at a time when Ryanair, our main airline partner, unveiled a programme of enhancements to its leading customer service programme. From 1 Dec, Ryanair permits all passengers to bring a second small carry-on bag, (no bigger than 35 x 20 x 20 cms) onto the aircraft in addition to the standard cabin bag (55x40x20).  This will enable passengers who have bought gifts in the airport shops to take them on board without having to re-pack etc."
Mary Conway, Airport Shop Manager said: "we are absolutely delighted with the newly refurbished store and look forward to offering customers a fantastic range of competitively priced products to meet our needs".
---
The Airport of Choice for the North West of Ireland!
City of Derry Airport, (CoDA), is ideally placed to serve not only the city but its natural catchment in County Londonderry, Donegal, North Antrim, Tyrone and other business districts.  It acts as an important catalyst for in-bound tourism to the region, as well as providing a vital "air bridge" back to Britain and Europe.  During 2012 the Airport handled in excess of 400,000 passengers to a range of destinations as well as being one of the principle gateways to the North West of Ireland.
CoDA has undergone a major transformation in the past few years, with a modernisation programme that has delivered a significantly better passenger experience.  CoDA prides itself on offering business travellers convenience; with a plane to car park transfer in less than five minutes (CoDA's main car park is situated two minutes walk from terminal building).  Some of the more recent improvements include:
Extension to Pre-board Area and Improved Security Search Area – speeding up passenger processing times;
Free Wi-Fi Services throughout the Terminal – available to all passengers so you can stay in touch with work and home as you travel through the airport;
Online Car Park Booking System – offering customers the ability to book in advance, saving both time and money;
Amelia Earhart Business Lounge – offering business travellers an additional place to catch up on work before their flight or the opportunity to simply relax and unwind; and
Airport Shopping – an improved shopping experience to get those last minute essentials.
Building on the fantastic choice of destinations including:  London (Stansted), Liverpool; Glasgow (Prestwick) and Birmingham, CoDA is delighted with its fantastic range of summer sun destinations for 2014 which includes:
Alicante (Ryanair);
Faro (Ryanair);
Lanzarote (Falcon Holidays); and
Majorca (Falcon Holidays)
All flights are on sale via the Ryanair or Falcon websites, or from local travel agent.  Falcon Holidays offer great value package holidays for Summer 2014 and Ryanair offer low cost flights across the UK and Europe.  For more details of the routes available or to take advantage of any of the items listed above please visit www.cityofderryairport.com or visit our Facebook / Twitter Page.
---
Ryanair Announces Customer Service Improvements Over Next 6 Months
Ryanair, Europe's favourite low fares airline today (25 Oct) unveiled a programme of enhancements to its industry leading customer service which has seen the airline's traffic grow to over 80m p.a. thanks to Ryanair's unbeatable combination of lowest fares, on-time flights, new aircraft fleet and the reassuring guarantee of no fuel surcharges.
After an extensive customer feedback programme through its "Tell MOL" page on the Ryanair.com website, Ryanair confirmed that it was introducing the following customer service improvements over the next 6 months to end March 2014.
1.      The "Recaptcha" security code will be removed from the Ryanair.com website for individual bookings next week (on 1 Nov next).
2.      From 1 Nov, customers who book directly on the Ryanair.com website (i.e. not via travel agents or screenscrapers) will be given a 24 hour grace period from the time of their original booking, to correct any minor errors (i.e. spelling, names, routings) made in their original booking.
3.      From 1 Nov, Ryanair will operate "quiet flights", prior to 8am in the mornings and after 9pm in the evenings. During these quiet flight periods no PA's will be made on board other than required safety announcements. Ryanair will also dim the lights during these quiet flights so that any customers who wish to snooze, can comfortably do so.
4.      From 1 Dec, Ryanair will allow passengers to bring a 2nd small carry-on bag (small ladies handbag or small airport shopping bag) no bigger than 35 x 20 x 20 cms which will allow a bottle of wine or equivalent to be carried.
5.      From 1 Dec, Ryanair's boarding card reissue fee will be cut from €70/£70 to €15/£15 for customers who have already checked in online. Customers who fail to check-in online will continue to pay a €70 airport check-in fee.
6.      From 5 Jan, Ryanair's standard airport bag fees will be cut from €60/£60 to €30/£30 at the bag drop desk, and from €60/£60 to €50/£50 at the boarding gate, bringing them into line with competitor airline standard airport bag fees.
Ryanair's Michael O'Leary said:
"We are very excited at these significant improvements in what is already Europe's No.1 customer service airline. As we implement our plans to grow from 80m to over 110m customer p.a. over the next 5 years, we are actively listening and responding to our customers so that they can continue to expect low fares and on-time flights on Ryanair, but will now enjoy easier website access, 24 hour grace periods, a 2nd small carry-on bag, reduced airport bag fees and quiet flights. We hope that our passengers will enjoy these service improvements, while still enjoying Ryanair's low fares and on-time flights."
Ryanair's Director of Customer Service, Caroline Green said:
"These are the first in a series of customer service improvements which Ryanair is actively working on to make our low fare services easier to access and even more enjoyable for our millions of customers. As some of these policy changes will require website changes and handling staff retraining, we will be rolling them out over the next few months as we strive to further improve Europe's No.1 customer service airline. If customers have any other suggestions or feedback they want us to hear, then please use our customer feedback service "Tell MOL" on the Ryanair.com website."
---
Ryanair Unveils Improved Website And Digital Service To Customers
Ryanair, Europe's favourite low fares airline today (30 Oct) unveiled plans to significantly improve its
www.ryanair.com
website, which will further enhance the airline's industry leading customer service. Ryanair also announced a series of digital initiatives which will simplify booking and flying for Ryanair customers and their families.
Ryanair's new website features:
The removal of the Recaptcha for individual bookings (from 1 Nov).
A 24 hour "grace period" to fix minor errors in bookings (from 1 Nov).
A cleaner, simpler homepage (from 30 Nov).
A simplified booking path which cuts from 17 to 5 'clicks' to make bookings (from 30 Nov).
An intuitive booking flow which helps customers easily find the lowest fares on every route (30 Nov).
Ryanair also announced a series of digital improvements which will be released over the coming months this winter as follows:
A member service "My Ryanair" which allows customers to enter their details (name, address, credit card etc) and store them securely on the Ryanair.com website, saving customers time, every time they make bookings (from end Dec).
Mobile boarding passes (end Feb 2014) which will allow customers choose to either print their boarding passes or download them to their smart phones.
A "Fare Finder" feature (end Apr) which will allow customers to search for fares by price point, route and travel period. Customers will click a low fare and immediately find the dates and flights where it is available.
A new mobile app (May 2014) which will make Ryanair's fares and flight info readily available on all smartphones and tablet devices.
"Share the Fare" option (end Mar), which helps customers find Ryanair low fares and share them on your favourite social network.
Finally, Ryanair will release tailored language websites in all its major EU markets starting with a Spanish language and tailored website and an Italian version by end June 2014, making the Ryanair.com website readily available and accessible in all Ryanair's major EU markets during 2014.
Ryanair's Michael O'Leary said:
"We are excited and delighted with the new, cleaner, easier to use Ryanair.com website which significantly improves Ryanair's industry leading customer service. The Recaptcha security code will disappear on Friday for individual customers. Ryanair's new improved website will be released in just over two weeks and our soon to be delivered features including secure membership, low fares finder, mobile app, mobile boarding passes and individually tailored national websites in our bigger EU markets will help more customers to make great savings and waste less time by booking Ryanair's flights on the new and seriously improved Ryanair.com website.
---
Ryanair Launches Exclusive Stansted Coach Partnership With National Express
SAVE UP TO 79% ON YOUR TRANSPORT TO/FROM LONDON
Ryanair, Europe's favourite low fares airline, announced an exclusive coach partnership at London Stansted Airport with National Express, the UK's largest coach operator. National Express, Ryanair's selected coach partner at Stansted, is now offering passengers savings of up to 79% (versus rail transfers) for Ryanair passengers travelling to/from London.
| | | | |
| --- | --- | --- | --- |
| | NEX | STN Rail | % Saving |
| Adult Return | £    9.99 | £    32.80 | 69% |
| Adult Single | £    4.99 | £    23.40 | 79% |
National Express services operate uninterrupted 24 hours a day, 7 days a week offering convenient and reliable coach travel with a wider choice of stops to Ryanair passengers and for a fraction of the cost of rail.
For more information on Ryanair flights from City of Derry Airport to Stansted, visit: 
www.ryanair.com
---
Ryanair Reveals Best Ever Customer Service Figures
93% OF OVER 157,000 FLIGHTS IN JUNE, JULY & AUG ON-TIME
Ryanair, Europe's only ultra-low cost airline, revealed a record summer peak on-time performance, with an average 93% punctuality for the months of June, July and August, during which it operated over 157,000 flights.
Ryanair carried over 25m passengers in this three-month period, with a record 9m passengers in August.
       SUMMER 2013 FLIGHT STATS
| | | | |
| --- | --- | --- | --- |
| | Traffic | Flights | On-Time |
| Jun | 7.9m | 50,000 | 92% |
| Jul | 8.8m | 53,000 | 92% |
| Aug | 9.0m | 54,000 | 94% |
| Total | 25.7m | 157,000 | Ave: 93% |
Ryanair's Robin Kiely said:
"Ryanair will carry over 81m passengers this year, thanks to our unbeatable customer service, which comprises the lowest fares, the most on-time flights, the fewest cancellations and the least mishandled bags. During the 3 peak summer months, Ryanair set new standards in punctuality, with a record 93% of our 157,000 flights arriving on-time, while we carried over 25m passengers, including a record 9m in August, our highest-ever monthly total."       
---
92% Of Ryanair Flights Arrive On-Time In September
Ryanair, Europe's low fares airline, released its September customer service statistics which confirm that Ryanair remains Europe's No 1 customer service airline as follows;
92% of 51,000 flights arrived on-time
Less than 1 complaint per 1,000 passengers
Less than 1 bag complaint per 2,000 passengers
| | | |
| --- | --- | --- |
| September | 2012 | 2013 |
| On-time flights | 93% | 92% |
| Complaints per 1,000 pax | 0.48 | 0.55 |
| Bag complaints per 1,000 pax | 0.39 | 0.38 |
| Complaints answered within 7 days | 99% | 99% |
Ryanair's Robin Kiely said:
"During September, 92% of our 51,000 flights arrived on-time, as Ryanair continued to improve its industry leading customer service. Ryanair's unbeatable formula of the lowest fares, no fuel surcharges and No 1 customer service delivery continues to encourage passengers to switch from high fare, fuel surcharging competitors, which is why we are on target to carry over 81m passengers this year."
---