bmi regional appointed to operate London PSO service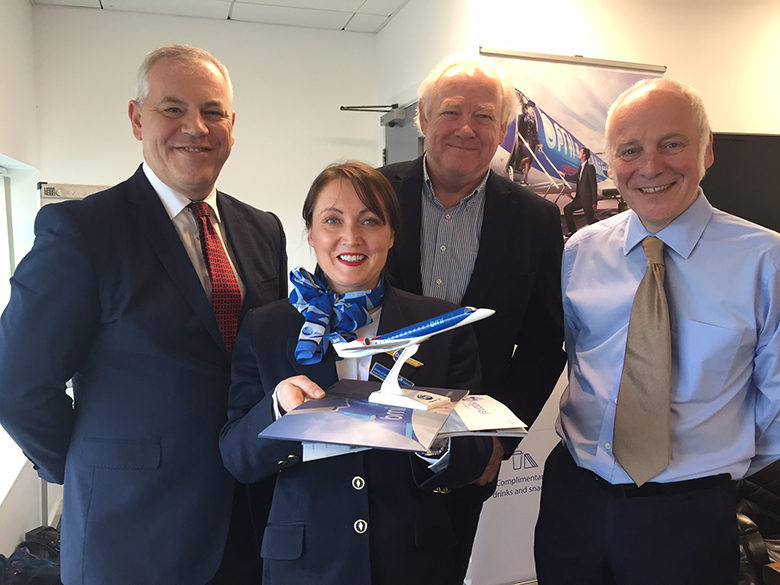 City of Derry Airport today welcomed the announcement that bmi regional has been appointed by Derry City and Strabane District Council to operate the London PSO service.
Following Ryanair's decision to terminate their Stansted service at the end of March 2017, Derry City & Strabane District Council applied to the EU Commission for a Public Service Obligation, (PSO), designation of its route to London in early September 2016, this was approved and tendered in the Official Journal of the European Union at the end of October. The tender application process closed at the end of December 2016 and following a tender evaluation in January there followed negotiation with the Department for Transport to agree funding for the PSO. At their meeting last night, Derry City and Strabane District Council approved the appointment of bmi regional to operate the London PSO.
bmi regional operates an all-jet fleet comprising 18 Embraer 135 and 145 aircraft flying more than 300 scheduled flights a week across a network of 31 destinations in 10 European countries and employs more than 400 staff. The airline also operates an extensive ad hoc charter business and flies on a contract basis on behalf of other carriers. In addition, the airline also operates routes as codeshares with Lufthansa and Brussels Airlines, enabling customers to connect to two global airline networks.
Mr Roy Devine, Chairman of CoDA Operations Ltd stated: "We are absolutely delighted with today's announcement from Derry City and Strabane District Council. The appointment of bmi regional to operate a double daily service from City of Derry Airport to London Stansted is a very welcome boost for both the Airport and the wider North West region. A direct air link with a London airport is imperative for this region – and its business community.
Roy highlighted that City of Derry Airport is a vital piece of infrastructure and a key economic driver for the North West region, generating a total of £15.7m Gross Value Added (GVA) into the local economy, a minimum of £8.3m per annum of operational GVA and £7.4m of catalytic GVA from inbound tourism and business connectivity. Roy outlined that despite recent setbacks the airport's future looks very optimistic with a new operator, bmi regional, offering high frequency, business friendly services to London Stansted.
Regional & City Airport's Contracts Director, and representative of the management company at the Airport, Mr Clive Coleman, welcomed the completion of the tender process and successful outcome of the negotiations with the Department for Transport. Clive outlined that today's announcement was very welcome news – the London PSO will safeguard 124 jobs at the airport and deliver approximately 66,000 customers per annum to CoDA. Start date and schedule for the new service will be available in the coming weeks. Clive emphasised that the new double daily service will enable travellers within the local area to depart CoDA early morning and return the same evening as well as acting as a catalyst for in-bound tourism to the region.
Ryanair's London service will cease operations on 25th March, 2017 this is disappointing for Ryanair customers who have enjoyed using the service for over 17 years, however, the airport is pleased Ryanair will continue to operate five service per week to Glasgow International and two service per week to Liverpool. Clive also highlighted that leading tour operators, Thomson and First Choice, part of the TUI Group, will operate a new summer sun programme from City of Derry Airport to Majorca commencing on 26th June 2017.
Clive also stated that this is a new beginning for the airport and that the new London operation will provide needed stability and enable other routes to be promoted. The Airport is actively engaged with the Department of Economy and the European Commission to agree a compliant mechanism for route development funding received from the NI Executive in late 2016. The funding package is hugely significant in allowing CoDA to develop new routes as well as advancing plans to develop infrastructure.
Mr Coleman concluded by stating that CoDA has become the airport of choice for the North West of Ireland, offering both convenience and excellent customer service and that he would encourage all travellers within the local catchment to think about flight options from their local airport when making future travel arrangements, asking air passengers to "Think Local and Choose CoDA" whenever they can. "We have fantastic facilities on our doorstep and it is essential that everyone takes advantage of their local airport for their travel plans when possible".