NEWS
Find out what's the latest from City of Derry Airport.
Extension Works at City of Derry Airport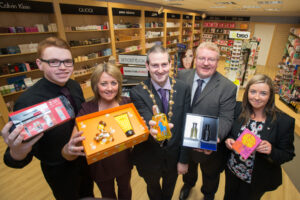 City of Derry Airport has recently completed refurbishment works within the main Departure Area of the terminal building. These works included the provision of a pre-boarding area and an extension to the existing retail offering at the airport.
Airport Director, Damien Tierney said:  "We are always looking at ways to improve the customer experience at the airport. Completion of this project will complement our other recent customer service improvements including the provision of free WiFi throughout the terminal and the upgrade to our relaxing Amelia Earhart Lounge.  The aim of this extension project is to offer more capacity within the departure lounge and improve the retail offering.  During peak summer months, the pre-boarding area will speed up passenger boarding and alleviate congestion in the departure lounge.  The newly refurbished retail unit will offer customers an improved shopping experience and a wider range of gift ideas.
Commercial Manager, Charlene Shongo said, "We are very pleased with the newly refurbished retail unit; offering customers an exciting and expanding range of quality merchandise at very competitive prices".  Charlene added, "The opening of the newly refurbished retail unit comes at a time when Ryanair, our main airline partner, unveiled a programme of enhancements to its leading customer service programme. From 1 Dec, Ryanair permits all passengers to bring a second small carry-on bag, (no bigger than 35 x 20 x 20 cms) onto the aircraft in addition to the standard cabin bag (55x40x20).  This will enable passengers who have bought gifts in the airport shops to take them on board without having to re-pack etc."
Mary Conway, Airport Shop Manager said: "we are absolutely delighted with the newly refurbished store and look forward to offering customers a fantastic range of competitively priced products to meet our needs".
---
The Airport of Choice for the North West of Ireland!
City of Derry Airport, (CoDA), is ideally placed to serve not only the city but its natural catchment in County Londonderry, Donegal, North Antrim, Tyrone and other business districts.  It acts as an important catalyst for in-bound tourism to the region, as well as providing a vital "air bridge" back to Britain and Europe.  During 2012 the Airport handled in excess of 400,000 passengers to a range of destinations as well as being one of the principle gateways to the North West of Ireland.
CoDA has undergone a major transformation in the past few years, with a modernisation programme that has delivered a significantly better passenger experience.  CoDA prides itself on offering business travellers convenience; with a plane to car park transfer in less than five minutes (CoDA's main car park is situated two minutes walk from terminal building).  Some of the more recent improvements include:
Extension to Pre-board Area and Improved Security Search Area – speeding up passenger processing times;
Free Wi-Fi Services throughout the Terminal – available to all passengers so you can stay in touch with work and home as you travel through the airport;
Online Car Park Booking System – offering customers the ability to book in advance, saving both time and money;
Amelia Earhart Business Lounge – offering business travellers an additional place to catch up on work before their flight or the opportunity to simply relax and unwind; and
Airport Shopping – an improved shopping experience to get those last minute essentials.
Building on the fantastic choice of destinations including:  London (Stansted), Liverpool; Glasgow (Prestwick) and Birmingham, CoDA is delighted with its fantastic range of summer sun destinations for 2014 which includes:
Alicante (Ryanair);
Faro (Ryanair);
Lanzarote (Falcon Holidays); and
Majorca (Falcon Holidays)
All flights are on sale via the Ryanair or Falcon websites, or from local travel agent.  Falcon Holidays offer great value package holidays for Summer 2014 and Ryanair offer low cost flights across the UK and Europe.  For more details of the routes available or to take advantage of any of the items listed above please visit www.cityofderryairport.com or visit our Facebook / Twitter Page.
---
Ryanair Announces Customer Service Improvements Over Next 6 Months
Ryanair, Europe's favourite low fares airline today (25 Oct) unveiled a programme of enhancements to its industry leading customer service which has seen the airline's traffic grow to over 80m p.a. thanks to Ryanair's unbeatable combination of lowest fares, on-time flights, new aircraft fleet and the reassuring guarantee of no fuel surcharges.
After an extensive customer feedback programme through its "Tell MOL" page on the Ryanair.com website, Ryanair confirmed that it was introducing the following customer service improvements over the next 6 months to end March 2014.
1.      The "Recaptcha" security code will be removed from the Ryanair.com website for individual bookings next week (on 1 Nov next).
2.      From 1 Nov, customers who book directly on the Ryanair.com website (i.e. not via travel agents or screenscrapers) will be given a 24 hour grace period from the time of their original booking, to correct any minor errors (i.e. spelling, names, routings) made in their original booking.
3.      From 1 Nov, Ryanair will operate "quiet flights", prior to 8am in the mornings and after 9pm in the evenings. During these quiet flight periods no PA's will be made on board other than required safety announcements. Ryanair will also dim the lights during these quiet flights so that any customers who wish to snooze, can comfortably do so.
4.      From 1 Dec, Ryanair will allow passengers to bring a 2nd small carry-on bag (small ladies handbag or small airport shopping bag) no bigger than 35 x 20 x 20 cms which will allow a bottle of wine or equivalent to be carried.
5.      From 1 Dec, Ryanair's boarding card reissue fee will be cut from €70/£70 to €15/£15 for customers who have already checked in online. Customers who fail to check-in online will continue to pay a €70 airport check-in fee.
6.      From 5 Jan, Ryanair's standard airport bag fees will be cut from €60/£60 to €30/£30 at the bag drop desk, and from €60/£60 to €50/£50 at the boarding gate, bringing them into line with competitor airline standard airport bag fees.
Ryanair's Michael O'Leary said:
"We are very excited at these significant improvements in what is already Europe's No.1 customer service airline. As we implement our plans to grow from 80m to over 110m customer p.a. over the next 5 years, we are actively listening and responding to our customers so that they can continue to expect low fares and on-time flights on Ryanair, but will now enjoy easier website access, 24 hour grace periods, a 2nd small carry-on bag, reduced airport bag fees and quiet flights. We hope that our passengers will enjoy these service improvements, while still enjoying Ryanair's low fares and on-time flights."
Ryanair's Director of Customer Service, Caroline Green said:
"These are the first in a series of customer service improvements which Ryanair is actively working on to make our low fare services easier to access and even more enjoyable for our millions of customers. As some of these policy changes will require website changes and handling staff retraining, we will be rolling them out over the next few months as we strive to further improve Europe's No.1 customer service airline. If customers have any other suggestions or feedback they want us to hear, then please use our customer feedback service "Tell MOL" on the Ryanair.com website."
---
Ryanair Unveils Improved Website And Digital Service To Customers
Ryanair, Europe's favourite low fares airline today (30 Oct) unveiled plans to significantly improve its
www.ryanair.com
website, which will further enhance the airline's industry leading customer service. Ryanair also announced a series of digital initiatives which will simplify booking and flying for Ryanair customers and their families.
Ryanair's new website features:
The removal of the Recaptcha for individual bookings (from 1 Nov).
A 24 hour "grace period" to fix minor errors in bookings (from 1 Nov).
A cleaner, simpler homepage (from 30 Nov).
A simplified booking path which cuts from 17 to 5 'clicks' to make bookings (from 30 Nov).
An intuitive booking flow which helps customers easily find the lowest fares on every route (30 Nov).
Ryanair also announced a series of digital improvements which will be released over the coming months this winter as follows:
A member service "My Ryanair" which allows customers to enter their details (name, address, credit card etc) and store them securely on the Ryanair.com website, saving customers time, every time they make bookings (from end Dec).
Mobile boarding passes (end Feb 2014) which will allow customers choose to either print their boarding passes or download them to their smart phones.
A "Fare Finder" feature (end Apr) which will allow customers to search for fares by price point, route and travel period. Customers will click a low fare and immediately find the dates and flights where it is available.
A new mobile app (May 2014) which will make Ryanair's fares and flight info readily available on all smartphones and tablet devices.
"Share the Fare" option (end Mar), which helps customers find Ryanair low fares and share them on your favourite social network.
Finally, Ryanair will release tailored language websites in all its major EU markets starting with a Spanish language and tailored website and an Italian version by end June 2014, making the Ryanair.com website readily available and accessible in all Ryanair's major EU markets during 2014.
Ryanair's Michael O'Leary said:
"We are excited and delighted with the new, cleaner, easier to use Ryanair.com website which significantly improves Ryanair's industry leading customer service. The Recaptcha security code will disappear on Friday for individual customers. Ryanair's new improved website will be released in just over two weeks and our soon to be delivered features including secure membership, low fares finder, mobile app, mobile boarding passes and individually tailored national websites in our bigger EU markets will help more customers to make great savings and waste less time by booking Ryanair's flights on the new and seriously improved Ryanair.com website.
---
Ryanair Launches Exclusive Stansted Coach Partnership With National Express
SAVE UP TO 79% ON YOUR TRANSPORT TO/FROM LONDON
Ryanair, Europe's favourite low fares airline, announced an exclusive coach partnership at London Stansted Airport with National Express, the UK's largest coach operator. National Express, Ryanair's selected coach partner at Stansted, is now offering passengers savings of up to 79% (versus rail transfers) for Ryanair passengers travelling to/from London.
| | | | |
| --- | --- | --- | --- |
| | NEX | STN Rail | % Saving |
| Adult Return | £    9.99 | £    32.80 | 69% |
| Adult Single | £    4.99 | £    23.40 | 79% |
National Express services operate uninterrupted 24 hours a day, 7 days a week offering convenient and reliable coach travel with a wider choice of stops to Ryanair passengers and for a fraction of the cost of rail.
For more information on Ryanair flights from City of Derry Airport to Stansted, visit: 
www.ryanair.com
---
Ryanair Reveals Best Ever Customer Service Figures
93% OF OVER 157,000 FLIGHTS IN JUNE, JULY & AUG ON-TIME
Ryanair, Europe's only ultra-low cost airline, revealed a record summer peak on-time performance, with an average 93% punctuality for the months of June, July and August, during which it operated over 157,000 flights.
Ryanair carried over 25m passengers in this three-month period, with a record 9m passengers in August.
       SUMMER 2013 FLIGHT STATS
| | | | |
| --- | --- | --- | --- |
| | Traffic | Flights | On-Time |
| Jun | 7.9m | 50,000 | 92% |
| Jul | 8.8m | 53,000 | 92% |
| Aug | 9.0m | 54,000 | 94% |
| Total | 25.7m | 157,000 | Ave: 93% |
Ryanair's Robin Kiely said:
"Ryanair will carry over 81m passengers this year, thanks to our unbeatable customer service, which comprises the lowest fares, the most on-time flights, the fewest cancellations and the least mishandled bags. During the 3 peak summer months, Ryanair set new standards in punctuality, with a record 93% of our 157,000 flights arriving on-time, while we carried over 25m passengers, including a record 9m in August, our highest-ever monthly total."       
---
92% Of Ryanair Flights Arrive On-Time In September
Ryanair, Europe's low fares airline, released its September customer service statistics which confirm that Ryanair remains Europe's No 1 customer service airline as follows;
92% of 51,000 flights arrived on-time
Less than 1 complaint per 1,000 passengers
Less than 1 bag complaint per 2,000 passengers
| | | |
| --- | --- | --- |
| September | 2012 | 2013 |
| On-time flights | 93% | 92% |
| Complaints per 1,000 pax | 0.48 | 0.55 |
| Bag complaints per 1,000 pax | 0.39 | 0.38 |
| Complaints answered within 7 days | 99% | 99% |
Ryanair's Robin Kiely said:
"During September, 92% of our 51,000 flights arrived on-time, as Ryanair continued to improve its industry leading customer service. Ryanair's unbeatable formula of the lowest fares, no fuel surcharges and No 1 customer service delivery continues to encourage passengers to switch from high fare, fuel surcharging competitors, which is why we are on target to carry over 81m passengers this year."
---